The North County Arts Network is excited to announce the 2019 promotion of arts and culture covering all of North County, east to west and north to south. This month-long celebration during October is in coordination with National Arts and Humanity month. Our goal is to build public awareness in the following ways:
Through the coordination of our Steering Committee of Arts Leaders, we have motivated visual and performing arts resources to hold events in October and to collaborate with local businesses.
On social media sites using #OYH2NCA #Openyourheartstoarts #Northcountyarts
Via a concerted campaign to announce this promotion, including brochures, website promotion, social media feeds, e-blasts, videos and word of mouth.
With additional promotional support provided by Smorgborg, Innovate 78, KPBS, Cal State University at San Marcos, the San Diego Tourism Authority, the San Diego North Economic Development Council and the San Diego International Airport Arts Program.
ArtWalk Carlsbad is the launch for Open Your Hearts to North County Arts on Sat-Sun, Sept 21-22, 2019 at Armada Drive. We host a booth with a hands-on art experience and two-day silent auction, and the NCAN Showcase Hour with performances on the main stage. There will be chalk art, hundreds of artists' booths as well as live music, a wine and beer garden, food trucks, interactive art activities, FREE parking and more. This is a ticketed event and thousands are expected to attend. A.J. Croce  will be headlining at 2 pm on Sunday Sept 22.
Studio Ace (EIN # 81-4109420) is the fiscal sponsor for NCAN and 5% goes to its educational programming.
Our logo gif was created by Kate Donnelly.
Our brochure was designed by Jeff Adamoff.
TO PARTICIPATE:
FOR VENUES:
– Go to the directory and search for your org.
– Login and add your event.
– Add a required image and mark your event as Visual or Performing.
– Add the following hashtags for all social media postings to denote your event:
   #openyourheartstoarts and #OYH2NCA and #northcountyarts.
– See the HELP Page for more details if needed.
FOR SEEKERS OF ARTS AND CULTURE EXPERIENCES:
– Check out our events calendar for October.
– Join or invite others to visit the exciting visual and performing arts events that are featured.
We are grateful to the City of Carlsbad Community Arts Grant and the County of San Diego Neighborhood Reinvestment Program Grant for helping to fund OPEN YOUR HEARTS TO NORTH COUNTY ARTS, 2019.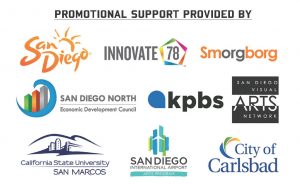 2019 NCAN Steering Committee