About Us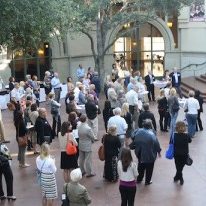 NCAN Mission:  "On the move to develop an innovative vision, plan, and encourage points of intersection to strengthen the arts in North County and the Greater San Diego region." Our mission is to serve, advance, and lead the diverse network of organizations and individuals who work in the arts in North County and San Diego.
NCAN Vision:   "Uniting the arts to invigorate the quality of life and prosperity in our region via the power of collective impact to leverage and maximize support for our creative community." Our vision is that the arts are recognized as vital in the lives of people in North County and San Diego.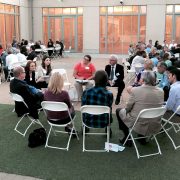 General NCAN Areas of Priority
How Can I Get Involved?
Review Meeting Agendas and Minutes
Ask to be added to the group's mailing list
Contact Amanda Ecoff, NCAN's Executive Administrator
What is the history of the North County Arts Network?
Daniel Foster started in 2014 to have a series of open meetings to bring arts professional together to network with each other and discuss the needs of the north county region. These meeting were held at Oceanside Museum of Art while Foster was the director of the museum.
In 2014, Patricia Frischer, Naomi Nussbaum, Jim Gilliam and John Eger were meeting with Dave Roberts and the four other county supervisors to discuss the formation of a San Diego County Arts Council (SDCAC). Such a council had existed in the past and there was attempt by Art Pulse starting in 2011 to start it up again which failed. Daniel Foster joined this group in 2015
Dave Roberts was willing to fund a position and give office space for this push and two documents were created for a one year work plan for the council and an administrator. Unfortunately, Roberts was besieged with allegations about staff at that time, and we had to back off with our ask.
Frischer, Nussbaum and Gilliam became advisors to Daniel Foster and together with other arts leaders, North County Arts Network (NCAN) was formed with the intention of being a pilot program for a series of arts networks throughout the county which could be umbrellaed eventually as the SDCAC. A series of four formal meetings where held in 2015 allowing networking and a more formal sharing of ideas. In 2016, a temporary website was launched and educational and networking meetings continued. In 2017, a grant from Supervisor Roberts was used to upgrade the website to enable an interactive calendar of events and to hold an Arts and Economic Summit.
North County Arts Network includes which areas of SD County?
Incorporated cities:
Coastal –  Oceanside, Carlsbad, Encinitas, Solana Beach, Del Mar, and La Jolla
Inland – Escondido, Vista, San Marcos, Poway, Valley Center, Rancho Bernardo, and Rancho Penasquitos.

Unincorporated:
Fallbrook, Ramona, Camp Pendleton South, San Diego Country Estates, Valley Center, Camp Pendleton North, Lake San Marcos, Hidden Meadows, Bonsall, Fairbanks Ranch, Rancho Santa Fe, Rainbow, San Luis Rey