Aug 22nd, 2019
5:00 pm – 9:30 pm
New Village Arts Theater and Foundry Artist Studios
2787 State St
Carlsbad, CA 92008
Join NCAN for a FREE networking mixer and art reception at New Village Arts at 5pm on Thursday Aug 22.
Stay for a performance of A WEEKEND WITH PABLO PICASSO at a reduced rate.
You are invited by The North County Arts Network (NCAN) to attend a FREE reception and chance to network at Monica Martin's opening of her Captivated art show at the Foundry Artist Studios in Carlsbad. Then walk next door where NCAN has arranged for discounted tickets for A Weekend with Pablo Picasso at New Village Arts at 7:30 .
The reception is free and you pay only $25 tickets for this fun performance.
A Weekend with Pablo Picasso
"a delectable, 80-minute tour-de-force" – San Jose News
         A Teatro Pueblo Nuevo Production
Written By and Starring Herbert Siguenza | Directed by Todd Salovey
$25 tickets for NCAN members On August 22, 7:30pm
Use promo code NCAN here
Limited Engagement AUGUST 9 – 25
Have you ever wanted to spend a weekend with Pablo Picasso? Well, here's your chance! In this critically-acclaimed one-man show, you'll get an up-close look inside the artistic genius' mind and private studio. Not only will you get to see the award-winning Herbert Siguenza take the stage as the legendary artist, but you'll also get to watch six original works of art painted live in front of your eyes.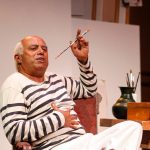 Herbert Siguenza as Pablo Picasso. Photo: Daren Scott.
$25 tickets for NCAN members
August 22, 7:30 pm
Use promo code NCAN here
or tickets: www.newvillagearts.org or call 760.433.3245
"an utterly engaging portrait of an artist at work… Don't miss it!" – SDGLN