The bi-monthly art open house will bring attention to the city's dynamic visual art scene.
Encinitas, CA. Enjoy an evening of visual art on Saturday, February 23, from 6:00-9:00 p.m., as Encinitas's civic and local art galleries swing open their doors at Art Night Encinitas. The first-time event will celebrate the city's diverse visual art scene at seven participating locations and is free to the public.
"Art Night Encinitas was conceived by the Commission for the Arts in 2018 as a way to bring focus to our civic art galleries and thriving visual art scene," said Commission for the Arts Chair Collette Stefanko. In 2019, 47 exhibits by local artists will be presented in the city's three civic art galleries. "By organizing bi-monthly receptions at the civic art galleries we can include every artist and exhibit," said Encinitas arts program administrator Jim Gilliam. A free shuttle will transport attendees to the civic art galleries.
The intent of the new program is to bring recognition to the city's visual art program and benefit local galleries and artists by the sale of artwork. Participating galleries and artists include: Civic Center Art Gallery at City Hall: Kelsey Overstreet and Lily Pourat; Encinitas Library: Dean Andrews, Carol Lang, William Leslie and Alessandra Colfi; Encinitas Community Center: Cherie Gollaher, Kim Simas and Margo Villa; Lux Art Institute: Courtney Mattison; Art N Soul on the 101: various artists; First Street Gallery: Jim Hornung and Mario Romero; Corner Frame Shop: Jim McConlogue. A series of newly-installed Lightsculptures at the Encinitas Library by artists William Leslie and Alessandra Colfi will be unveiled at the event.
For a map of participating locations, visit the website: www.encinitasca.gov/visualart. For more information, contact Jim Gilliam, jgilliam@encinitasca.gov, or (760) 633-2746.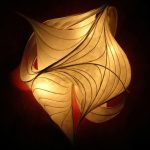 More about Lightsculptures
The Lightsculptures are made from thin strips of wood bent into a frame then covered with paper soaked in polyvinyl resin and internally lit by incandescent colored bulbs. Most of the designs are inspired by natural forms. William Leslie teaches philosophy at Palomar College and maintains a studio in his home designing and producing Lightsculptures with his wife Alessandra Colfi. www.papersunlightsculpture.com