By Patricia Frischer
New Village Arts: Miss Bennet: Christmas At Pemberley showing until Dec 23.. This is the San Diego Premiere of Lauren Gunderson and Margot Melcon's holiday sequel to Pride and Prejudice.
There are a few things to get straight before you read a report on Miss Bennet: Christmas at Pemberley.  First, this is written by Americans not English and it is a contemporary work, not written by Jane Austin. It is not a book that has been shortened into a play, but a play cleverly conceived to cover just 2 days and one night in the life of Mary Bennet, the youngest Bennet sister, which takes place about 2 years after the original story Pride and Prejudice. The English accents were those of Americans working to speak the Queens English and the costumes by Elisa Benzoni helped them to have the deportment of 1815.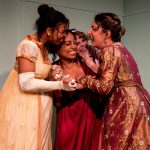 Photo credit: Daren Scott.
Having said all that, if you are like me, a person that never gets enough of P & P, and if you want to be amused and love a happy ending that might bring a tear to your eye, you are going to love this.
Kristianne Kurner the executive artistic director of New Village Arts and the director and designer of the sets of the play, has chosen very cleverly to present the perfect holiday performance. Nadia Guevara is a wonderful Mary. The youngest Bennet sister is brought to life by her and she will now live in our memories. She is complex and humorous in perhaps a more modern way than Elizabeth, but remember, written by American playwrights who are especially keen on strong women roles. With only 1 ½ hours real time and 2 days of Christmas fantasy time we do develop a strong connection to her. The writings and the acting have come together beautifully.
My husband felt that the mean spirited Ann (Michelle Marie Trester) was the most authentic character. She was left by Mr. Darcy (Timothy L. Cambal) as well as Arthur (Carter Piggee) and her temper was positively apoplectic.  Even she has a happy future course invented for her. God bless us, every one!