Unseen Artists: Sights & Insights from the Piano Technicians Guild
February 14, 2018 – April 30, 2018
The Museum of Making Music is the host for the NCAN Looking North: Seek to be Found networking event on Monday, April 9 from 5:30 to 7:30. This amazing museum is fascinating even for the tone deaf with a huge array of instruments to amaze your eyes and hears.
Through April 2018, the Museum of Making Music presents "Unseen Artists: Sights & Insights from the Piano Technicians Guild." As you enter the Museum, you'll see three historic pianos, including the piano famously present in Ford's Theatre with Abraham Lincoln on that fateful night in 1865.
You'll also learn about the important role of the piano technician and discover the tools of their trade.
More than just a Tuner — What Does a Piano Technician Do?
Over the lifetime of a piano, it needs consistent service to make it a responsive musical instrument. A neglected piano will become less and less capable of musical expression over time and will tend to lead the player to frustration and disappointment. Regular service performed by a competent piano technician is simply a necessary part of owning a piano.
But what exactly does a piano technician do? In this exhibit—presented in partnership with the Piano Technicians Guild—you'll find out that they are much more than just a piano tuner.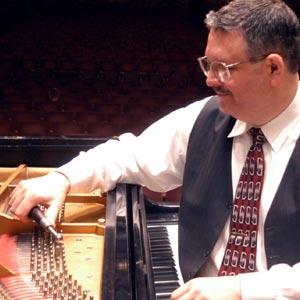 Tuning
Setting the pitch of the piano by adjusting the tension of over 225 strings, each at over 150 lbs of tension. This involves turning the tuning pin in increments of one ten thousandth of a degree. Doing this accurately, and leaving it in a stable condition requires tremendous skill.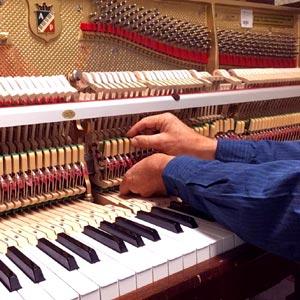 Regulation
Creating the touch of the piano by making minute adjustments to the 88 little wood and felt machines – one per key – so each behaves the same. A well-known procedure for grand pianos involves 37 steps (repeated 88 times).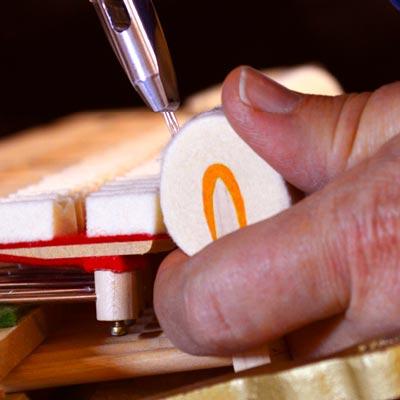 Voicing
Establishing the tone of the piano by adjusting the density and resilience of the felt of each hammer, to create an even gradient of tone. This involves sticking needles into the felt in a controlled manner, and sometimes applying hardeners to the felt.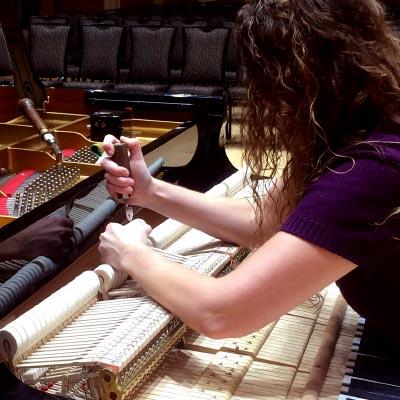 Concert Prep
Refinement of tuning, regulation and voicing, with additional preparation steps to ensure each hammer strikes all its strings squarely and simultaneously.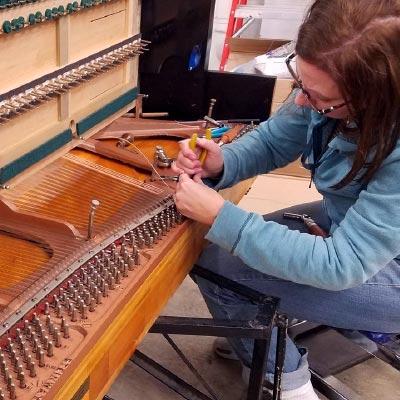 Rebuilding
Replacing parts of the piano, from hammers and strings to entire actions and soundboards, often including redesign to improve touch and tone. This can significantly prolong the usable life of a piano.
Also on view: Floating Strings
October 14, 2017 – April 29, 2018
The Museum of Making Music's next special exhibition entitled "FLOATING STRINGS: The Remarkable Story of the Harp Guitar in America" opens on Saturday, October 14th. The exhibition is developed and designed by museum staff along with guest curator, Mr. Gregg Miner—one of the world's foremost harp guitar scholars, and will include over 40 beautiful examples of this unique instrument. In addition to the stunning display of instrumental craftsmanship, the exhibition also looks at the history of the harp guitar, from its beginnings in Europe to its current status and use in the United States today.
The term "Harp Guitar" today refers to guitars with a number of floating strings in addition to fretted strings on the neck. Most commonly these are additional bass strings (anywhere from 1 to 12); occasionally, mid-range or treble "harp" string banks are included. Extremely diverse in form and stringing arrangement, their shared defining element is that the extra strings are plucked with the thumb or fingers, but not fretted (stopped) as the fingerboard strings are.
The harp guitar had been around Europe since the late-1700's, with sporadic experiments dating as far back as 1659. Continually sprouting up in one form or another, some types were so common that they didn't even warrant a special term; they were simply guitars, described by their number of strings. Other instruments had fantastical forms with strange new shapes. Some of the distinctive designs and inventions launched new, if temporary, traditions while others died a quick and ignoble death.
It's unknown how much awareness of these instruments there was in America. Beyond a couple rare occurrences, 19th century American musicians remained seemingly oblivious to the long and varied European history of guitars with floating strings. Thus, while there were many precursors to our American harp guitars, there may have been few direct influences—nothing that can be proven. Incredibly, Americans may have created many of this country's harp guitars independently.
At the same time, it was Americans who came up with the romantic name of "harp guitar." And it would prove a surprisingly durable romance indeed. For over three decades—predominantly between 1890 and 1920—harp guitars in all their fresh variety would remain popular with American fretted instrument builders and players, from amateurs to professionals.
Though they subsequently disappeared for several decades, a rekindled love affair with the American harp guitar began to blossom in the 1980's and continues today in a worldwide renaissance. And this new exhibition here at the Museum of Making Music.