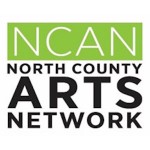 An Arts Day in Fallbrook
Breakfast & networking – Fallbrook School of the Arts, 310 E. Alvarado St., Fallbrook
Tour of School / Foundry / Demonstrations/Veterans Sculpture Bronze Pour
Galaxy of Glass Show, Fallbrook Art Center, 103 S. Main Ave.
Saturday, October 22, 2016
The members of NCAN had a very full day laid on by Fallbrook Arts Incorporated and arranged by Jerri Patchette and the staff and board. Mary Perhacs spoke to use about the Fallbrook Art Center and led a tour of this large art school with five main buildings. A delicious breakfast was served and we had time to roam the historic unincorporated city. The most impressive thing was the high energy and dedication of everyone we met.
I personally enjoyed the demonstration by Dixon in the print rooms, the Chinese brush painting class, a super stone and wood facility and the amazing pour by the Vet Art group of hot bronze. The school has classes in ceramics, printmaking, painting, drawing, jewelry, fabric arts, sculpture including stone, wood, metal and glass. In fact they will soon be installing a new glass furnace.
The Fallbrook Art Center holds the Galaxy of Glass, World of Watercolor (Jan) Wildlife Art (Feb), and Reflections of Nature (May) shows every year. Also coming up are a Art of the Holiday sale and Art of Sport show in April.
A small group had lunch at Cafe Artists and continued the afternoon with a visit to the stunning mountain top home of Julia Rasor and amazing library with art by Michael Stutz and Betsy Schulz. Katherine Mitchell impressed me in the Galaxy of Glass show at the Art Center.