May 11, 2016 Read on line on Picked RAW Peeled blog
NCAN quarterly program themed Arts Education in San Diego was on Wedn. May 11, 2016. Networking is at the Muramid Museum and Art Center (212-F Artist Alley) from 5:00 – 6:00 pm and the formal meeting at Sunshine Brooks Theater (217 N Coast Hwy), operated by the Oceanside Theatre Company at 6:00 pm. The program is presented by NCAN's Arts Education Committee led by Leah Goodwin (CCAE) and Lynnette Tessitore-Lopez (City of Chula Vista Arts), with additional support of Jacque Kilpatrick (CSUSM). This arts education program featured some of San Diego's most knowledgeable and impactful arts educators and administrators discussing the opportunities and challenges for strengthening youth arts education.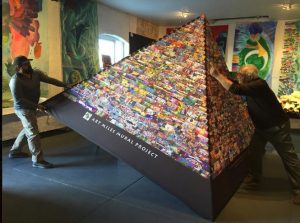 Muramid….murals and pyramid!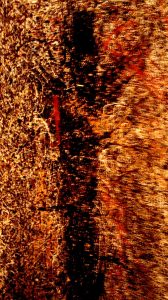 Diane Carey dripped painting
We were delighted to see the stunning new home for the Art Miles Mural Project, the Muramid Museum and Art Center. You can see samples of the 5280 community murals involving ½ million people that this organization has created in over 100 countries. They are still creating and send out murals from the collection for exhibition all the time. The future holds a line of merchandise with images used in the murals but for now there is a lovely shop with gourds and jewelry.
After viewing this space and the halls, we took a look at the Phantom Gallery in the same building. Ruth Jameson, who has been given the space by the owner, is hoping for a permanent director to finance the gallery and keep the space as a commercial gallery.
When we arrived at the Sunshine Brooks Theater across the street we were greeted by the Oceanside Theatre Company. The lobby has a lovely display by Diane Carey with painting and sculpture. Two short and delightful performances by young singers Tristan Lee and Brooke Eyler vocalizing A Whole New World and a delightful song Gabrielle Dodaro followed.
Jim Gilliam, art administrator for the City of Encinitas was the MC for the program. Updates on NCAN projects and its committees included news of his Civic Committee: They will be hosting a workshop of all Civic Arts participants including administrators, commissioners, staffers and friends in the fall as well as helping to move Oceanside closer to the goal of having civic art staff. The first step toward that is forming helping to form a Friends of the Arts in Oceanside similar to those in Encinitas and Carlsbad.
Visual Arts Committee's Looking Glass Project: Patricia Frischer told us of a stunning demonstration of the technology by Ryan Jefferies, projection equipment with a bulbs which last over 6 years, clearance from CalTrans. They are now looking for specific venues and starting the process of selection of the artwork for this project which has a grant application accepted to fund the project, which they are doing in collaboration with San Diego Visual Arts Network.
Economic Development Committee: Daniel Foster is working with his committee to organize the Art and Business Summit probably in the summer of 2017. A county grant of over $7000 was requested to this end.
Performing Arts Committee: Alex Goodman group is moving forward with section mapping and collaboration with marketing, more details to come in the future.
The Marketing Committee: With amazing help Brigid Pearson, this committe has stepped forward to be in charge of the mapping project and will be sending out information about best practices. They also in charge of the website
http://sdncan.org/ and are already thinking of a special site for events listings. All committee are helping with sector mapping and Brigid requested lists of any resources and artist in this ongoing effort. More details and contact can be found on the NCAN website.
Matt Armstong, Pauline Crooks, Lauen Shelton, Steve McCormick, Meryl Goldberg
Finally Arts Education Committee: The evenings program was led by Leah Goodwin (CCAE) and Lynnette Tessitore-Lopez (City of Chula Vista Arts). The panel covered two main topics. Arts Funding and Arts Integration but there was also discuss about teaching art as a subject matter. It is important to note that arts integration is using the arts to teach all sorts of other subjects.
Lynnette Tessitore-Lopez introduced each of the following panelist and gave us an insight in just how professional and diverse they each are in their area of expertise.
• We learned from Pauline Crooks, San Diego County Office of Education about how there are 42 school districts in the county. Each district has different strategies for funding the arts. The unified districts for the city of San Diego has granted $3 million for the Learning through the Arts program. This program stress arts integration.
• Matt Armstrong, VAPATOSA for San Marcos School District explained how each district gets a grant for their educational programs but a separate supplemental fund LCAP is used for the arts. All stakeholders (parents, student, staff, faculty, public) interested in the arts for their district has to petition for funding by going to meeting, being vocal and being knowledgeable about the programs you want. These funds go to Title 1 school so those programs have to address English as a second language, foster and low income students. The arts luckily help all three of these categories to learn more effectively
• Lauren Shelton, Artist/Arts Instructor, Chula Vista School District is the stunning administrator that brought in $15 million dollars ($5 million a year for three years) and almost single handedly hired 70 art teachers from across America in three months. This all started with a strategic plan and did not call for new money but instead shifting momey from substitute teachers to full time teachers. All students in Chula Vista now get art either once a week or once ever other week.
• Steve McCormick, Director of Education, La Jolla Playhouse participates with Lauren. Her program includes art as a subject matter and art integration and that is where Steve comes in. The programs started very small and proved itself. Each program has a non-profit arts organization, a school district and an accounting body like the SD County Office of Education. Steve and his colleagues find out what teachers and students are struggling with and then helps by using innovative arts to give an emotionally charged learning experience. He calls this 3-D learning. Although art and music are creditional programs on their own, we now know that drama is part of the English department and dance is part of physical education. This obviously is an advocacy matter.
• Merryl Goldberg, Ed.d Professor, CSUSM, nationally recognized arts education leader has learned that even at the college level, most of her student have no real experience of art for art sakes. Art to them means fashion, tattoos and cars. Art Integration is key to addressing social justice and access issues. She is aware that the Teachers Performance Expectation of 2013 is judging not just the experience of the student, but also that of the parent, teacher and community and the environment for learning
Leah Goodwin summed up the evening: Become, Create, Advocate
Fallbrook Show and Tell
Fallbrook Arts Inc. invites North County Arts Network Members for "An Arts Day in Fallbrook" on Saturday, October 22, 2016

Breakfast & networking – Fallbrook School of the Arts, 310 E. Alvarado St., Fallbrook
Tour of School / Foundry / Demonstrations/Veterans" Sculpture Bronze Pour"
Galaxy of Glass Show", Fallbrook Art Center, 103 S. Main Ave. (an easy walk from the
 Fallbrook's Library, "Latino Art Show Madrecitos" 124 S. Mission Rd. (near the Art Center)
The members of NCAN had a very full day laid on by  Fallbrook Arts Incorporated and arranged by Jerri Patchette and the staff and board. Mary Perhacs spoke to use about the Fallbrook Art Center and led a tour of this large art school with five main buildings. A delicious breakfast was served and we had time to roam  the historic unincorporated city. The most impressive thing was the high energy and dedication of everyone we met.
I personally enjoyed the demonstration by Dixon in the  print rooms, the Chinese brush painting class, a super stone and wood facility and the amazing pour by the Vet Art group of hot bronze.
The school has classes in ceramics, printmaking, painting, drawing, jewelry, fabric arts, sculpture including stone, wood, metal and glass. In fact they will soon be installing a new glass furnace.
The Fallbrook Art Center holds the Galaxy of Glass, World of Watercolor (Jan) Wildlife Art (Feb), and Reflections of Nature (May) shows every year. Also coming up are a Art of the Holiday sale and Art of Sport show in April.
A small group had lunch at Cafe Artists and continued the afternoon with a visit to the stunning mountain top home of Julia Rasor and amazing library with art by Michael Stutz and Betsy Schulz.  Katherine Mitchell impressed me in the Galaxy of Glass show at the Art Center.