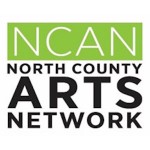 Visual Arts Programming Committee Meeting
SDVAN
2487 Montgomery Avenue, Cardiff by the Sea, 92007
AGENDA
Tuesday, December 1, 2015, 10:30 am–12:00 pm
More info and RSVP: Patricia Frischer 760.943.0148 or danielfosterart@aol.com
Brief overview of NCAN and the role of the Visual Art Programming Committee (NCAN Vision/Mission/Areas of Priority)

Review of Visual Arts Committee Project Considerations/Priorities

Collaborations i.e. more shared programming to share talent, expenses and audiences.
PR/Website for Shared Targeted Programming – pop up galleries, printed guide, want ads, match making artist to commissions, finding open calls, regional promotional videos about North County
Registry(s)/roster for info and a stronger engagement with artists/performers and organizations
Audience Building and Sales
Creating Artist Clusters – live work spaces and cultural districts

Meeting Goal: Discuss and choose several key prioritized projects for committee/NCAN to develop in 2016 and beyond.


Consideration of committee leadership/volunteer capacity & commitments, committee minutes/reporting, advocacy message, collaborative & leveraged approaches, education outreach component(s),

 

mentoring/intern support, funding opportunities/budget requirements, audience development, media relations/marketing, coordination with other NCAN and SD arts committees/groups.

Guided Fantasy focused on prioritized projects.

Mapping, recruitment, and engagement of other NCAN VAP members.

Research/Identification and distribution of Key Data/Research/Best Practices/Case Statements.

Scheduling next Committee meeting (date, time, and location)

NCAN Quarterly event on Thursday, January 21, 2016, 5:00 – 7:30 pm at Poway Center for the Performing Arts.