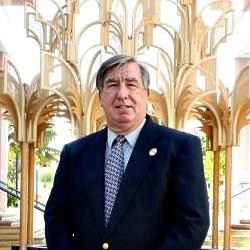 Op-Ed Article By Jerry Kern, Councilperson, City of Oceanside
Most people don't think of me as an "artsy" type of guy, despite my wife's best efforts. However, I do appreciate and understand the arts from an economic perspective. From revitalizing neighborhoods to attracting tourists, the creative arts have a long-standing history in economic development. They can play a significant role in attracting and keeping an intellectually creative and talented workforce. Communities that actively pursue and integrate the arts into their cities are investing in an industry and a creative process that supports jobs, generates revenue, and is a cornerstone of tourism. The arts mean business!      
Non-profit cultural and art organizations drive a growth industry that supports 5.7 million full-time jobs in the United States and generates nearly $30 billion in annual tax revenues. A $166 billion dollar industry, arts and cultural organizations are businesses in their own right. By leveraging significant event-related spending, patrons pump vital revenue into restaurants, hotels, and retail stores, creating a dynamic economic engine in local economies.                    
From an economic standpoint art has at least five measurable effects. First are direct effects which include all expenditures from employment provided by arts establishments or events. Next are the indirect effects from businesses that supply the artist or events with goods and services. Third are the induced effects of economic activity generated when employees and suppliers re-spend their wages in local communities.  Fourth, increased business activity is created when Oceanside citizens and visitors choose Oceanside activities over those in surrounding cities. Finally, traditional businesses that incorporate the arts into their company's environs and into their customer offerings gain a significant competitive edge with employees and customers alike.
As Oceanside moves forward with its economic plans we must find ways to not only incorporate art into the city's landscape, and building designs to create enjoyable and vibrant public spaces, but also encourage the arts throughout our community. The result of weaving the arts into our community will be an improved urban quality of life, an expanded business and tax revenue base, constructing a unique sense of identity, generating a source of pride for our citizens, and establishing Oceanside as a visitor destination, from which we all benefit.                          
Regions around the world are competing to attract new businesses as well as the brightest young professionals, the intellectual backbone of the new economy. International studies show that the winners will be those communities that offer an abundance of art and cultural opportunities which make a community more attractive to workers as well as to companies looking to relocate or expand operations. The availability of a skilled workforce is a critical constraint to growth, and a creative workforce is essential to the health and growth of local economies. As the arts flourish, so will creativity and innovation, the two ingredients that are the underlining drivers of the new global economy.   
As stated before my interest do not lean toward the arts , but I am passionate about the long term economic viability and vitality of Oceanside.  The Arts is potentially a tremendous vehicle to achieve those goals.   Oceanside needs business and jobs and Art means business.
By Erinn Roos-Brown, Blogging Fellow
June 13, 2013
Many arts districts are centers of economic development. But who benefits more from these cultural hubs — the arts community or local government?
The Paseo in Oklahoma City is one example of the many arts and cultural districts contributing to economic development in urban centers.
Is there an arts district in your city or town? Chances are, the answer is yes.
In recent years, there has been an increased connection between the arts and economic development in urban centers that has resulted in the establishment of over 90 arts districts (otherwise known as cultural districts) in the last 20 years. These districts are usually geographically defined areas with an agglomeration of buildings dedicated to the creation and presentation of the arts. They are often home to museums, visual and performing arts spaces, non-profit organizations, and for-profit creative businesses. At their height, these districts become the center of cultural dissemination across the city, allowing the city to define itself in new ways. But does the arts field — and the arts spaces in these districts — benefit from this partnership as much as the local governments and developers involved in fostering these cultural hubs?
Urban planning or organically grown – which is best?
Arts districts have proven to be an excellent economic development tool for many cities, particularly when combined with urban rejuvenation efforts like repurposing vacant factory buildings or renewing blighted neighborhoods. The majority of arts districts are established in one of two ways.
In the first scenario, they are strategically planned over several years, involve many voices in the development process, are strategically placed in the urban environment and, most importantly, usually have financial support and leadership. Successful versions of this type of district are demonstrated in Pittsburgh, Columbus and Dallas. The districts in these cities were intentionally planned by local governments in collaboration with arts organizations and placed in areas in need of revitalization. These neighborhoods primarily house arts organizations and for-profit arts businesses. There are typically few artist studios or residents in these districts. This can make the districts feel a bit precooked, but the arts and the city's redevelopment goals have an equal partnership that mutually benefits all involved.
The other way that districts are established is through the designation of a region that developed organically, usually by artists who move into such an area seeking cheaper rent and amble studio space. In this second scenario, there is typically far less financial support from the city and less planning for its growth. Developers often arrive shortly after designation status is granted, and begin building condos and repurposing vacant spaces that can support residential and commercial spaces. The more successful and desirable these districts become, the more expensive and gentrified they become. Taxes increase, rents go up.
The Northeast Minneapolis Arts District is an example of this type of arts district. Taxes have increased dramatically since the establishment of the arts district and new condo projects have already broken ground. They have also had a significant increase in visitors to their district as well as to their annual arts festival attendance. The designation of these organically emerging creative districts brings attention to the arts spaces that are already established there, and attracts new artists, arts organizations, visitors and tourists.
Who benefits from arts districts?
A piece of public street art in the Wynwood Arts District in Miami. Image from the Renegade Fashion Writer.
While more intentionally planned arts districts lack some of the character and authenticity of organically developed districts, I would argue that they are far more sustainable for both the arts and the development of the city. A lengthy planning phase and the investment of time and energy from a wide range of individuals and organizations can create a cultural district that has a stable financial foundation as well as a focused value on the content and partnership that the arts provide. Organically created neighborhoods may be more authentic, but they have less structure and support, and the benefits to local government and businesses seem to far outweigh what artists and arts organizations get out of the district designation.
The best kind of arts district is the one that equally benefits the city government, the art scene, and the businesses in the district. Revitalizing a neighborhood on the backs of an existing neighborhood won't benefit any of these groups in the long run. If cities want to benefit from their arts and culture community, then it needs to be in a fair and responsible way. Planned arts districts may not have the same flavor of authenticity, but they will have the most positive impact. Let the organically grown neighborhoods be themselves without government interference.
As arts and economic development continue to be linked, and several cities and states have already combined these two governmental departments, the question of what those in the arts field get out of this relationship becomes more important. The arts and culture communities are serving these cities in many beneficial ways – they contribute to urban revitalization, economic development and artist centers. They provide cities with a better quality of life and allow them to brand themselves as creative and cultured in order to promote tourism, attract new residents and encourage new businesses. With minimal or no financial incentives for these districts, local governments are getting quite a bargain.
How can the arts make sure they receive proper support from local governments that benefit from the existence of arts districts? What is your perspective on arts and cultural districts and their role in contributing to urban economic development?